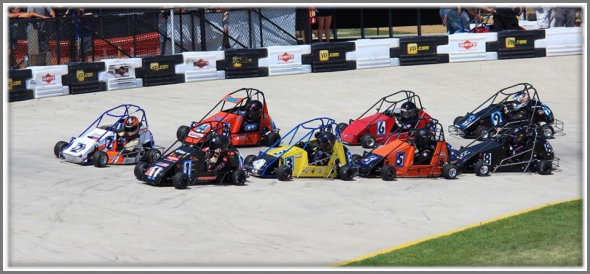 Club Information
The Little Kalamazoo Speedway Quarter Midget Club is the fastest 1/20 mile track in the country and is a USAC sanctioned club. We are proud to be a member of the .25 Midwest Thunder Series.
What is a Quarter Midget?
A quarter midget car is a scaled-down version of an actual midget racer, approximately 1/4 scale. The cars are built around a tubular frame and are fully suspended with springs or torsion bars and shocks. The bodies are fiberglass, usually painted to the driver's preference. Surrounding the driver is a chrome-moly roll cage and nerf bars. The engines are single cylinder and are manufactured by Honda, Continental/Deco and Briggs & Stratton. In stock configuration, they produce between 3 & 6 horse power. Modifications in the upper classes allow these engines to reach several times the stock horse power. These air-cooled 4 cycle engines are reliable and can produce over 10,000 rpm in their more highly modified forms.
Benefits Of Quarter Midget Racing.....
Quarter midget racing was started to develop sportsmanship in the children while also providing a family oriented racing activity. In recognition of the drivers, trophies are awarded at Regional, State, and National events. No cash prizes are awarded.
· Quarter Midget racing is not a "drop off your kid" kind of sport, but an involved family sport. Few other sports permit all members of the family to participate. The kids do the driving while other family members serve as pit crews, chief mechanics, scorers, timekeepers, and operators of concession stand or novelty booths.
· It teaches the meaning of sportsmanship, fair play by following rules, how to be a good winner or a gracious loser.
· It develops coordination, and a sense of timing and independent thinking.
· It teaches self-reliance. Once a green flag has dropped, they are on their own.
· The spirit of competition also comes along here. They learn to drive hard, but that rules must be observed. Rule infractions may result in disqualification.
· Development of knowledge and an appreciation for mechanical devices.
· It teaches safe driving skills that are carried on in their teen years on the road. Very few people develop the skill that these children acquire. We believe this level of skill is valuable when they become adult drivers. They learn that there is a place to race an automobile— which is NOT on the public highway systems where so many young adult drivers lose their lives.
· It develops a sense of responsibility. Alertness and concern for the safety of others is acquired.
YOU MUST BE A MEMBER OF LITTLE KALAMAZOO AND USAC. LITTLE KALAMAZOO Club Membership is $125.00. USAC must be paid in full regardless of when join. This runs Jan-Dec & covers insurance with USAC. USAC $100.00 for the family & 1 Alternate Handler plus $10.00 per person signed up any additional handlers is $25.00 plus $10.00 for insurance. THIS DOES INCLUDE THE $10.00 MEMBERSHIP TO MIDWEST THUNDER. Reserved Parking with electric can be purchased for $125.00 for the season. YOU DO HAVE TO BE A MEMBER OF LITTLE KALAMAZOO TO PRACTICE OR AN ASSOCIATE MEMBER. YOU DO NOT HAVE TO BE A MEMBER OF LITTLE KALAMAZOO TO RACE WITH US BUT YOU DO HAVE TO BE A MEMBER OF USAC AND ANOTHER USAC TRACK.
ALL YOUR MEMBERSHIP FORMS ARE NOW DUE. THE USAC PORTION NEEDS TO BE PAID ON-LINE THIS YEAR. YOU WILL NOT BE ABLE TO TURN IN THE FORMS THE FIRST PRACTICE DAY ALL FORMS MUST BE TURNED IN AND PAID BEFORE. YOU ALSO NEED TO REGISTER ON-LINE BEFORE BEING ALLOWED ON THE TRACK THIS YEAR. MAKE SURE ALL HANDLERS & DRIVERS ARE ENTERED ON LINE. YOU NEED TO ENTER EACH ONE INDIVIDUALLY. AFTER THE FIRST PERSON IS ENTERED THERE IS A TAB AT THE BOTTEM THAT SAYS ADD ANOTHER. IF YOU FORGET SOMEONE OR NEED TO FIX YOUR ENTRY AFTER YOU PAY CALL THE USAC OFFICE AND TALK TO NIKKI. THE LINK BELOW TAKES YOU TO THE ONLINE PORTION THEN SCROLL DOWN AND SELECT LITTLE KALAMAZOO.
2023 club membership fees are $125.00 this year which includes parking. Little Kalamazoo membership is $125.00 per family which includes $10.00 family membership to Midwest Thunder the Regional series. Associate Memership is $125.00 - must be a member of USAC & another USAC track.
Little Kalamazoo Speedway Quarter Midget Club Membership Forms USAC link can be found below. Associate members only need to fill out Membership, Driver Showcase, Zero Tolerance & Publicity Usage.
Work Detail Opening/Closing Policy Acknowledgement Form
Work Detail Opening/Closing Policy
2023 CLUB FEES ARE AS FOLLOWS:
$100 Full Membership
$125 Associate Membership
$50 Full Membership Reserved Parking w/ Power
$25 Full Membership Reserved Midwest Thunder Parking- Little Kalamazoo August 20th
USAC membership is required which is the sanctioning body. This fee is $100.00. plus $10.00 per member for participation insurance plus 3.5% processing fee. This must be completed on-line.
What does my membership money go to and grant me?
Free practice times Monday thur Saturday 9:00am to dusk. Sunday Noon to dusk. Minium of two adults and only 1 car on the track at a time. Must park in a parking spot no equipment on the cement, in the hot chute or pit area. Must text Amy 269-330-2765, Facebook message or email amylittlekalamazoo@gmail.com that you are practing. Tuesday nights still have controlled practice for those wanting to practice with others on the track. Thursday night 6:00-8:00 is reserved for rookies. If a rookie family is practing they have first priority to the track.
Awards for the drivers ribbons all rookies & top 3 each race.
For end of year trophies/awards race minimum of 11 club races between Tue, Fri & Sat.
For Championship, 2nd & 3rd place trophies must race minium races for that series.
Maintenance and repairs for the track.
Advertisement for the club to bring in new drivers and bring exposure for the current drivers.
Points Series are as follows:
Friday Points Series is 5 out of 6 races
Saturday Points Series is best 8 out of 10
Combo Points Series is 7 out of 8
End of season club awards 50% of all races or 8 paid races.
Try-A-Ride Opportunity TRY A RIDE DATES FOR 2023: APRIL 23, MAY 7 AND SEPTEMBER 10.
Club Officers:
Club Directors:
| | |
| --- | --- |
| Track Gound Support: | Adam Dennany & Tony Hathaway |
| Concession Stand Support: | Cheryl Marks |
| Treasurer Support: | Michelle Sexton |
| Tower Support: | Tina Dennany |
| Secretary Support: | Nona Westfall & Amy Hocevar |
| Fundraising Support | Kari Stevens |
| Tech/Safety Support: | Matt Valkner & Rob Westfall |
| Rookie Support: | Brad Geers |
| Marketing: | Tony Hathaway & Chris Daniels |