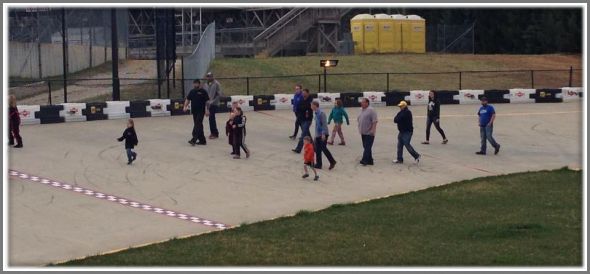 How To Get Started
TRY-A-RIDE CLICK HERE FOR REGISTRATION
This is an opportunity for your child to get into a quarter midget race car. Anyone the age of 4 1/2 and up can give a quarter midget a try.
2023 Try-A-Ride dates: April 23, May 7 and September 10

Cost is $20 for 10 laps around the track. LKS will provide all equipment; all we ask is that you wear long pants, socks and closed toed shoes. One parent is required to attend. Liabilty waiver to be signed by parent & child. Sign ups will will begin at 12:00pm in the upper level of the tower on site. Any questions email amylittlekalamazoo@gmail.com. If you want to add your child's name to the list to save time filling out some information please provide name, age, address, city, zip, phone & email.
Cars do only accomodate certain heights so there may be a chance not all kids will fit. Will try our best to accomodate everyone.
WHAT KIND OF EQUIPMENT WILL WE NEED?
You will need to own your own car. You can order a new car from a Quarter Midget Chassis Builder or buy a used cars. There are great used cars, parts and equipment on the website under Items For Sale or the USAC website under the Forum tab. Both cars and safety equipment are required to race. Safety equipment requirements: Helmet, full firesuit, arm restraints, neck collar or neck restraint device i.e. hans device, gloves, raceceiver w/ear buds. All requirements can be found in the Owner's Garage on the USAC website. www.usacracing.com
HOW TO START IN A ROOKIE PROGRAM:
Kids 4 1/2 are eligible to attend rookie training and practice on the track but just not race until they turn 5.
Kids ages 5 and up are eligible to race competitively. There are two levels of Rookies. All kids regardless of age must start with a Red restrictor plate. Once they have completed the Red Rookie requirements they move up to a Blue Rookie class with a Blue restrictor plate before being allowed to race in a Competitive class.
LITTLE KALAMAZOO SCHOLORSHIP PROGRAM:
ROOKIE DIRECTOR:
2023 Rookie Training dates will be listed on the website schedule.
Rookies will train on Saturday mornings before a scheuduled race & also Wednesday nights on scheduled dates. All dates are listed on the website schedule.
There will be classroom type of instruction as well as on the track, individual training and also group training.
You will need to have your own car to be able to train and race. You may purchase your own, or check out our scholarship cars that may be available. Membership is required.
Your car and equipment must be safety checked before you can train or race.
Safety equipment required: Helmet designed specifically for auto racing (SA designation) that meet or exceeds the 2000 or better Snell Foundation or SFI Foundation 24.1 youth spec helmet, Firesuit SFI 3.2A or better, neck collor or Hans device, gloves, arm restraints & raceceiver. All items must be SFI rated. Shoes can do not have to be racing shoes can wear tennis shoes or wrestling shoes.
2023 .25 Midget Rookie Program
1. The Rookie program is divided into two phases:
a. The initial Red Rookie phase is intended to orient the child with safety, communication and
racing procedures so that they understand what is expected of them before they enter the track,
while on the track and leaving the track. The training is outlined in Section 3702. When Red
Rookies have displayed their understanding of these basics, they move to phase two of the
Rookie training.
b. The secondary Blue Rookie phase is to obtain experience in racing with others at a faster
speed and to gain confidence in the car and their abilities.
2. There is no age differentiation between Red and Blue Rookies, as all ages must pass through
each phase.
3. Rookie drivers will not be eliminated from races for receiving multiple driving infractions
(STRIKES). (Section 3704-E)
4. A Rookie driver must participate in at least three events before graduating to a competitive
(Honda 120/Animal) class. One of these three events must be in the Red Rookie class.
(Section 3705-B)
TRAINING TASKS:
The following tasks must be completed during training sessions before a driver will allowed to compete in a race:
1. Consistant lap times (preferably above 12 seconds per lap),
2. Demonstrate the ability to line up in various positions for double line up and single line up.
3. Demonstrate the ability to come in the pits and stop in a pit stall.
4. Demonstrate the ability to follow flagging by the flag person.
5. Demonstrate the ability to cleanly enter the track from the pits (blend line).
6. Demonstrate proper response to hand signals.
7. Demonstrate the ability to take the checkered flag from the flag person at the end of a race.
8. Demonstrate the ability to safely exit the track.
ALL HANDLERS MUST BE PRESENT AT ALL TRAINING SESSIONS.

Have fun, be safe and good luck to all.
Rookie Program Link from USAC Owner's Garage
JOIN THE CLUB
Membership is for one year Jan. - Dec.
You will need to be a member of Little Kalamazoo, Midwest Thunder & USAC to race. USAC is the sanctioning body of the sport that governs all the rules.
Little Kalamazoo Membership is $100.00. Parking is $50.00.
Midwest Thunder @ LKS parking is $25.00 for members.
$25.00 per day to park in a power spot for out of town guests.
ACCEPTED FORMS OF PAYMENT ARE: CASH, CHECK OR VENMO @LittleKalamazooSpeedway
Use the links below to download a paper copy of the club submission forms.
You will need to print & fill out every form! Both parents, drivers and alternate handlers need to sign.
Use this link to register for USAC:
Use the link below to enter USAC's Owner's Garage:
Here you have access to rules, regulations and forms. Please take time to go over these documents.